This is a Sponsored post written by me on behalf of
Moen, Incorporated
. All opinions are 100% mine.
I have been loving our kitchen since I finally finished updating the cabinets and our kitchen island.
It's amazing (and probably a little bit sad) that I am spending more time in there now, simply because I'm enjoying the way it looks! (I'm also secretly hoping that spending more time physically in the kitchen will make me better at cooking, by osmosis. I'll let you know how that goes. ;) )
The downside to the updated cabinetry is that since I'm not blinded by hating my cabinets, I'm noticing other elements that I'm not 1000% loving.
One of those things is my kitchen faucet.
Don't get me wrong, I do love the overall shape of it, and the function is fine.
But there are days when I wish it was a little sleeker. And the arch was a wee bit higher to accommodate larger pots and taller vases and platters.
And the SPOTS. Oh, the spots.
I'm forever wiping the faucet down, getting rid of the splash spots and hard water deposits that I assumed were normal on any faucet, no matter what.
Well thanks to the folks at MOEN, I've learned it doesn't have to be that way.
This is the MOEN
Kiran Spot Resist one-handle pulldown kitchen faucet
: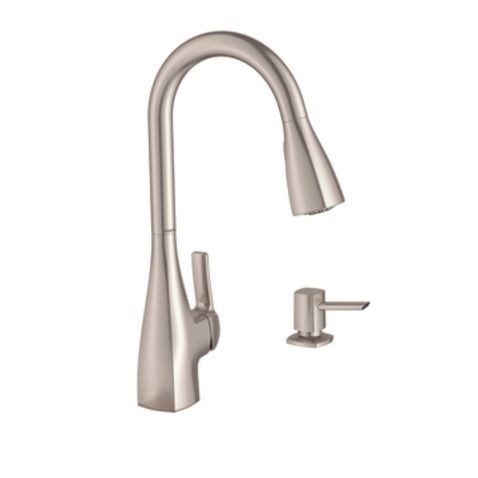 (isn't she pretty? And yes, she's most definitely a "she")
The Kiran has a higher arch, relex system, and most importantly, is spot and fingerprint resistant!
Let me say that again: SPOT AND FINGERPRINT RESISTANT!
::sigh::
Over the past couple years I've really been discovering my own personal style, and I feel a lot more confident about being able to spot things that fit into that style, rather than buying something I *think* I like, only to ditch it no long after for something else.
In addition to it being so easy-care, I really like that the Kiran's simple, classic shape really blends well with just about any design sensibility. I classify my personal style as 4 C's: Classic and Casual, where Coastal meets Cottage. (and I really have a thing for alliteration. ;) ). This could easily fit in my kitchen, but I could just as easily see it working in a more modern or contemporary space. That's pretty cool.
Interested in seeing it for yourself?
You can find the Kiran faucet by Moen at your neighborhood Lowe's.